So we all have that one Christmas destination where we ask the host "What can I bring?" and they respond with "Nothing, nothing! I've got it all covered!" What if you respond with "Okay — you take care of the food, and I'll bring the centerpiece!"
Arriving with a centerpiece for an event can be a personal touch that shows appreciation for your host's efforts without stepping on their toes. It's quick, easy, and crafty.
First step: Find the green. This can be super simple. I prefer to use fresh greens — as the smell of spruce or pine is SO holiday season! So, do you have a pine tree? Or a neighbor that wouldn't mind you clipping a few small branches? Or you can go to the store and pick up some fresh garland, just a small one is all you need. You can do a mix! For our project, I chose to work with clippings from an arborvitae tree and a juniper tree for the "base" green pieces. For some of the smaller green pieces that I tucked in, I used two different types of boxwood clippings – one green and one of a variegated variety. Implementing the variegated adds a great color pop in the green base. Also, the juniper branches naturally have berries on them, so that is a great accent to the green!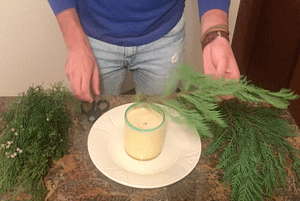 Step 2: Define the focal point. This can be so many different things! A single pillar candle, a grouping of 3 candles, or an arrangement of ornaments in clusters. I chose work with a single pillar candle that I found around the house!
Step 3: Find some accents. This can be super simple — ornaments, a string of beads, ribbon, pine cones, or some sticks from the yard. For the purpose of our project, being Christmas, I decided to use some bright, shiny ornaments as our accent! These create a great pop of color and also help the centerpiece to coordinate with place-mats that will be set up on the table.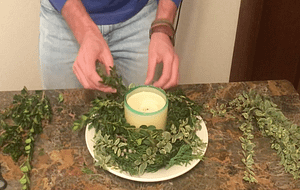 Step 4: Arrange! Arrange your focal point first and then add your accents around. I suggest placing everything on a plate or large platter — allowing you to arrange everything at home and then easily carry it into your host's house. I first arranged the pillar candle in the middle of the plate. Next, I began clipping the large pieces of greenery to create the centerpiece "base." I didn't want the green to hang off the plate too much, so I was sure to clip down the branches so they could fit the circular structure of the centerpiece – you can observe this in more detail on the instructional video. After the big pieces are placed, I tucked in the smaller green pieces and the accent ornaments.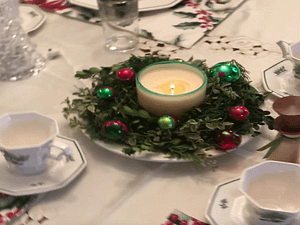 That's it! There's really no wrong way to construct this kind of project. Just make sure all the branch ends are tucked in and there are no "stick ends" sticking out. Using a mixed color of greens will help to add texture and really spice up the look for your centerpiece. With this simple gesture you'll not only show gratitude for your host, but I'm sure you'll also be the center of attention!
Here's a link to the video that we posted on our Instagram, Facebook, and Twitter:
 https://www.youtube.com/watch?v=YQ01rQmVDzY